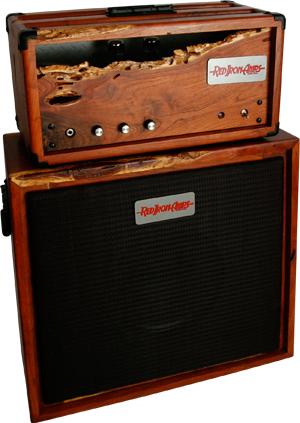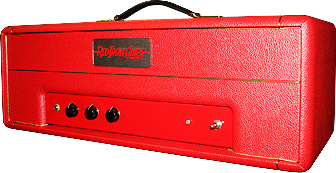 BRONX
The Bronx is identical to the topology of the T-Rex. Except, being 6550-based, it requires more drive to push it into distortion. Thus, aurally, one may think that it's less gainy. Because the 6550 can handle more plate voltage, the power supply is unleashed. The Bronx comes across thick and juicy.
High gain; full bodied sustain, 40 watts, Custom Mesquite Cabinetry
Point-to-point wiring
Tube complement: 3-6SL7GT, 2-6550
Choke filtering (LC)
Single channel with volume, bass & treble (Baxandal)
Center off; Power standby switch
Speaker out with ohms select: 4, 8 & 16
Cathode Bias High gain
Price: $2799 (speaker cabinet sold separately)
This text will be replaced by the flash music player.
~ Clips 1 – 4 Joe Strummer Tele with Fralins,
Wilkinson saddles, Feiten nut
~ Clips 5 – 8 stock Suhr Classic
~ Clip 9 is a rockin blues mix with the Suhr
~ Controls for Clips 1 thru 3; Vol=2, Bass=4, Treb=7
~ Controls for Clips 4 thru 9; Vol=9, Bass=4, Treb=7
~ Used Vol on guitar to clean up and max out
for gain in 4-9~ Clips 10 – 19 '95 Tele Special w/ Duncan Lil 59
and Fender HB – 5 way switch
~ Clip 10 – 17 were the bridge humbucker.
~ Clip 18 was the Neck HB.
~ Clip 19 goes from Neck HB to Neck Single Coil
to Both Humbucker
to Neck Single/Bridge HB to Bridge HB.
~ Controls for Clips 10 – 18; Vol=8, Bass=4, Treb=7
~ Controls for Clip 19; Vol=5, Bass=4, Treb=7
~ Used Vol on guitar to clean up and max out
for gain in 10-18
~ All clips recorded on a Celestion G12-65
close mic'd w/Sennheiser E906 & 421
into a Pacifica preamp