This text will be replaced by the flash music player.
BUFFER2
I built this Buffer2 because I'm a POD fan. I wanted a bit more tube "organics" and sustain. Frankly this buffer will work with anyone who uses pedals in their signal chain. You can use it before or after the pedals. Since it has low impedence output, you can also use it for home recording ANY musical instrument. The essence of the circuitry: 2-channels, Stereo volume and tone controls. Single input and output for each channel. All point-to-point, hand-wired. NO CIRCUIT BOARDS. NOS Allen Bradley resistors, Wima and Mallory capacitors. Teflon-coated silver wire. Sturdy and dense cast-aluminum chassis that also is impervious to RF noise. Internal power supply (no wall-warts!). Highly filtered plate and filament supplies makes for very quiet operation. The 1st stage of the 12AU7 is a low-gain amplifier. The 2nd stage is the buffer stage (low impedence).
The LED has an inverted cone design that disperses the light 180 degrees around it's circumference. Turn your lights out! and you'll see how it illuminates the fins, shields and chrome grab bars.
I currently have 2 versions:
$429 USD + shipping
The "Studio" version: $649 USD + shipping
The "Studio" version w/ balanced input upgrade: $749 USD + shipping
The "Studio" version w/ stepped attenuators upgrade: $849 USD + shipping

2010 review from Guitar Player magazine: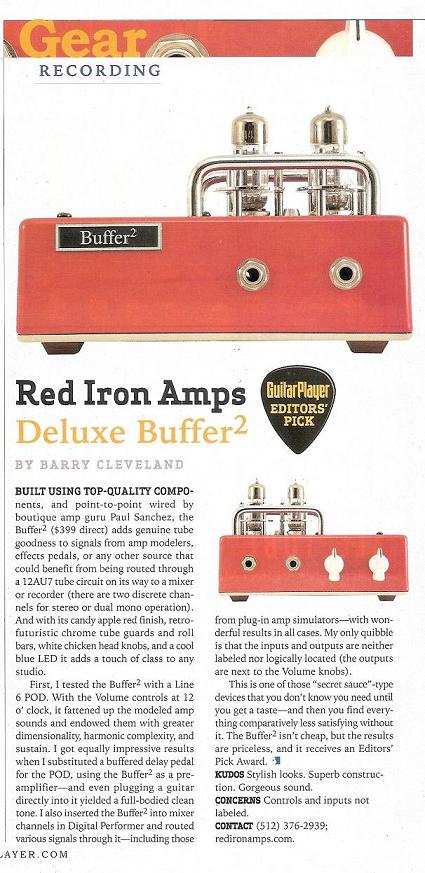 See the Buffer2 review from Barry Rudolph which also appears in the June 2008 edition of the Music Connection Magazine
Review from Jeff Southworth – Guitars, Arranger, Singer, Songwriter
"Hi Paul–some nice things about the Studio Buffer 2. After reading a very positive review of the Studio Buffer 2 in Guitar Player magazine a few years ago (in which it got an Editor's Pick/Key Buy Award), I was intrigued enough to contact Paul Sanchez directly, and discuss having him build me a rackmount version. I've had my own project studio for several years, and although I've got a couple of nice Avalon Vt 737 SP channel strips, I was still missing something when going thru my Pod XT Pro, or direct in to Logic and a guitar amp plug in, if I decided not to mic an amp. Being like most guitar players in search of TONE, with a capital T, I wanted more warmth and fullness, and Paul and I had several great discussions of how much we both hate that "killer bees from Mexico", 2K-4K, clanky-bright amp-sim sound. He suggested some really good options for my unit, including tube selection, and I knew this was going to be a very useful piece of gear. To put it briefly–since my Buffer 2 arrived about 2 years ago, I have used it every time I record guitar directly into the DAW. The cool thing about the Buffer is that, once you understand that it is basically a wonderful tube DI (NOT a tube preamp, or "real tube overdrive"), you can get really creative with it, and I constantly use it to fatten up my outboard hardware synths in stereo (the Buffer is dual-mono), running them into the Buffer, and then into the pair of Avalons. The guitar tones I can achieve (AFTER the Pod and into the DAW, or guitar into the Buffer and into an amp sim plugin in the DAW) are nothing short of amazing–there is warmth and fullness, but also clarity and sparkle and punch as well. Simply put, it is an integral part of my recording process, and I'm completely addicted to it! Thank you Paul, for building such a wonderful box. Cheers, Jeff"
Jeff's life-long career in music has encompassed performing, composing, arranging, producing, singing and songwriting. Jeff played guitar with Hall & Oates for two years, touring all over the world and played on recordings including the solo on "Kiss On My List". He played with many other artists including Laura Branigan, Graham Nash & Dan Hartman. His songs have appeared in John Sayles' movies, "Brother From Another Planet" and "Lianna". Patti Austin recorded Jeff's song "Good in Love", on her Love is Gonna Getcha CD and over 40 songs have appeared on daytime television shows, including Scotti Brothers' release of "Together Forever" from As The World Turns. Jeff's Clio winning television and radio work includes writing, arranging, and producing for Whitney Houston, Aretha Franklin, Wynonna Judd, Ray Charles, Aaron Neville, Leann Rimes and Steve Harwell (Smashmouth). Currently he's been writing and producing original music for the hit PBS children's show Dragontales. Jeff continues to explore and expand his capabilities from live roots rock, jazz, country, new age and pop to the cutting edge of digital audio technology and computer music.

His latest project is arranging and co-producing Frannie Faith's "Artist of the Heart" CD available on CD Baby.com
Here's a review from Tape Op magazine – Nov/Dec 2006: